Hawaii and its counties have been recording government records since 1826, long before the State was part of the union. The State formally codified the public right to access free Hawaii state records in 1975 when it adopted the Hawaii Uniform Information Practices Act (UIPA), which can be read in its entirety in Chapter 92F of the Hawaii Revised Statutes.1
The overarching principle of the UIPA is that publicly-available government records form the bedrock of a democracy. Yet when a private citizen is presented with multiple databases that include millions of records, the task of finding any single record or piece of information can be daunting.
We strive to collect all public Hawaii state records into a single location to give everyone a simple and logical starting point for that task.
Is Hawaii an Open Record State?
By law, Hawaii's Office of Information Practices (OIP) is obliged to make government records available for inspection and copying unless the record falls within a limited number of exceptions that authorize the OIP to deny or restrict access to it.2 Those exceptions will cause the OIP to deny a request for a Hawaii state record if the request seeks:
Government records that, if disclosed, would comprise an unwarranted invasion of personal privacy.
Government records regarding the prosecution or defense of a lawsuit or any other judicial or quasi-judicial action involving the State or one of its counties.
Records must be kept confidential to avoid the frustration of a legitimate government function.
Information that the State must keep "confidential" per applicable law or statute.
Drafts of pending laws or other legislative working papers.
In all cases, the OIP has the burden of showing that an applicable exception authorizes it to withhold requested information. Further, the agency may provide a summary or compilation of requested information where it is more efficient to do so and the requester agrees to accept a summary in lieu of the complete record.
How to Find a Public Hawaii State Record
An online directory might offer a blanket approach to a request for Hawaii state records, for example, by promoting an ability to deliver arrest, criminal, jail, and inmate records, bankruptcies, liens and judgments, business ownership, and property records, and other public information.3
Research on an individual will always be more successful when it begins with more than just the first and last name of the search subject or the city where that person might have resided. Many background check services that require only a name and an address will scan other research sites and respond with a list of potential candidates, and an offer to deliver a complete report on each specific candidate for a small fee.
Basic research services can be a good starting point for research into government databases, which can deliver more granular information about a research target if the research strategy focuses on specific types of information or documents that are being sought, e.g. public criminal records, court reports, vital information, or inmate and incarceration backgrounds.
With a bit of experience and some trial and error, a researcher can quickly gain a better understanding of how to perform effective research into a Hawaii State government public records repository.
Hawaii Criminal Record Checks Explained
A well-framed search for someone's criminal history will return that person's criminal conviction record, non-guilty verdicts, and pending charges and arrests that did not lead to a conviction. Although Hawaii arrest records that result in non-convictions and criminal cases that are still pending may only show up on official background checks.4
A criminal record search in Hawaii will also not include any criminal history records from other states or any federal criminal charges or convictions. Further, Hawaii state criminal records that have been expunged and sealed court records are not available for review and copying.
If someone has a criminal record in Hawaii, that record will generally include the subjects:
First and last name, and possibly aliases that the subject might have used.
Date of birth.
Photograph or mugshot.
Fingerprints.
Known current and past addresses.
Former arrest records.
Past and current outstanding warrants for arrest.5
Hawaii landlords, employers, credit agencies, and other persons and organizations that have interactions with a person that has a criminal record often use this information to inform those interactions.
Are Criminal Records Public in Hawaii?
Every Hawaii resident can check his or her Hawaiian public criminal record and, if that record has errors or omissions, can challenge its accuracy and completeness. If a person checks his or her own Hawaii state record in anticipation of purchasing a firearm, taser, or certain other types of weapons, that person cannot use the search results as proof that he or she has not violated the Hawaii criminal code.
A search from a licensed firearm dealer is the only acceptable proof of a clear background for firearm purchases.6
The Hawaii UIPA gives third parties access to criminal records. Using Hawaii's eCrim site, a third party can find both felony and misdemeanor convictions that the State has recorded.555
Keep in mind that although this information is generally available to third parties, Hawaii has strong restrictions on how it can be used, particularly in making hiring decisions.
How to Obtain a Criminal Record in Hawaii
The Hawaii Criminal Justice Data Center publishes and maintains the State's "eCrim" website, which is the best online starting point for research into Hawaii criminal information.
Users will be asked to create an account upon logging in, and searches can be performed by inputting the name, social security number, date of birth, and/or gender of the person that's being searched. Searchers will have greater success in finding the information desired when there's a  more comprehensive search criterion.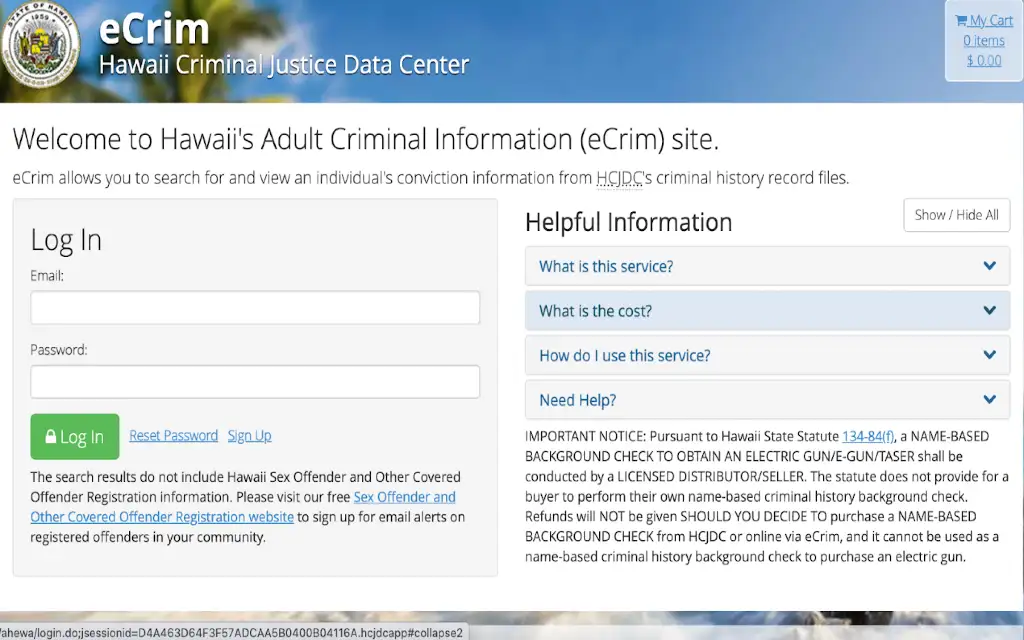 Note, however, that Hawaii eCrim searches do not include Hawaii Sex Offender and Other Covered Offender Registration information.
The State charges a nominal $5.00 fee for each unique search that a person performs in his or her account and a $10.00 fee for each report that might be requested. Questions about the data, content, or accuracy of the report that has been requested or received can be resolved by calling:
eCrim General Questions: (808) 587-3279
eCrim Online Support: (808) 695-4620
Anyone that does not have internet or online access can request a person's Hawaii arrest and criminal record in person, either directly through the Hawaii Criminal Justice Data Center or through one of the police department headquarters listed below. The request should be originated by filling out Hawaii Form HCJDC-073 and by submitting the payments listed on that form.7
Completed forms should be submitted directly to one of these sources.
Hawaii Criminal Justice Data Center
465 S. King Street, Rm 102
Honolulu, HI 96813
Phone: (808) 587-3279
Honolulu Police Department
801 South Beretania Street
Honolulu, HI 96813
Phone: (808) 529-3191
Hawaii Police Department
349 Kapiolani Street
Hilo, HI 96720
Phone: (808) 961-2233
Kona Police Station
74-5221 Queen Kaahumanu Highway
Kailua-Kona, HI 96740
Phone: (808) 326-4646 ext. 286
Kauai County Police Department
3990 Kaana Street
Lihue, HI 96766
Phone: (808) 241-1661
Maui County Police Department
55 Mahalani Street
Wailuku, HI 96793
Phone: (808) 244-6345/6355
How to Look Up Recent Arrest Records & Police Reports in Hawaii
In Hawaii, a person's criminal record begins as soon as he or she is arrested. The initial arrest record only includes information about the specific arrest, including when and how the person was arrested, the date and reason for the arrest, fingerprints, and certain post-arrest actions, including detentions.
Commercial services can enable interested parties to find recent arrests or to confirm if someone has been charged with a crime. Local newspapers and news reporting agencies might also publish recent arrest and criminal charge information that they deem to be in the public interest. In general, Hawaii does not publicly disseminate arrest records that are more than one year old if the person that was arrested was not charged with a violation of a Hawaii criminal law.
Hawaii police reports are narratives by the officer that made the arrest or conducted an investigation into it. As such, they may be part of or lead up to an arrest record.
Interested parties can request a copy of a police report from the Hawaii Police Department or other local sheriff's office after a case is closed or finally adjudicated or the applicable statute of limitations has expired. Victims of crimes who need a copy of a police report for insurance claims can request a redacted copy of the report.
Certain information will be blacked out on the redacted copy, including names and contact information, and the medical, financial, and juvenile status of certain parties. Written requests for police reports should be submitted to the Records and Identification Section at the address for the Hawaii Police Department in Hilo, listed above.
The more recent arrest and jail detention information may be available through Hawaii's SAVIN victim information and notification service. Alternatively, an interested party may contact a State sheriff's office directly in the county or jurisdiction where the arrestee is being held.
How to Search Hawaii Mugshots
Since Hawaii doesn't have many online repositories to search jail inmates, finding mugshots is next to impossible. However, if mugshots from Hawaii are available, VineLink or a third-party website is going to provide the best results.
Are Juveniles' Criminal & Court Records Public in Hawaii?
Juvenile records are automatically sealed in Hawaii.8
A person can seek a court order for a copy of a Hawaii juvenile record, but that request will likely be denied unless there is a compelling reason to explain why you need the record.
Further, Hawaii juvenile criminal records are subject to expungement when the individual reaches 21 years of age. Once expunged, records of crimes committed while the individual held juvenile status will no longer be part of his or her full criminal record.
Free Hawaii Warrant Checker
Hawaii's Judiciary Information Management System allows users to create a free account at its eBench Warrant System to determine if there is a warrant out for an arrest. Individuals can also call the Records and Identification Division of the Warrants Unit of the Honolulu Police Department at (808) 723-3258, or of other police departments throughout the State at the numbers listed above for information on outstanding warrants.
The State keeps warrants open for five years, after which they expire. Information about warrants that were issued more than five years prior to a request will likely not be accessible.
Search Hawaii's Sex Offender Registry Map
A researcher can determine whether a Hawaii resident is a registered sex offender or some other registered offender through the State Attorney General's Registered Offender tool.
The "Offender Type" field on this search page gives users the option to search all registered offenders, or to narrow a search to only sex offenders or offenders against minors. For the geographical search criteria, a user of this site can search either by zip code or by a radius of up to three miles from a specific address.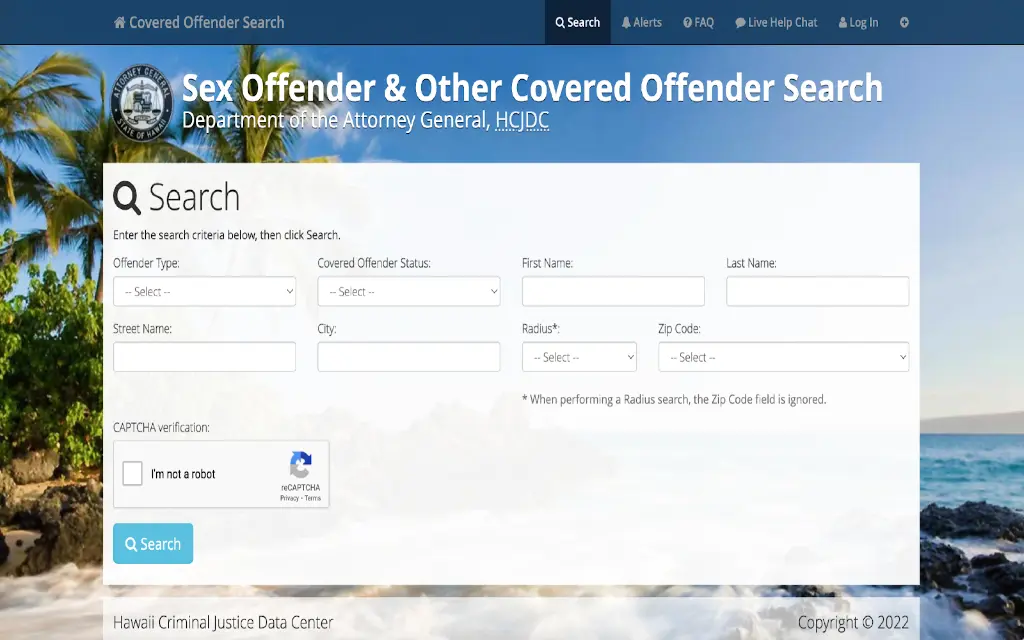 The Hawaii Criminal Justice Data Center has also partnered with a commercial service to create a mobile app that can be downloaded through either the Google Play or Apple iOS App Store.9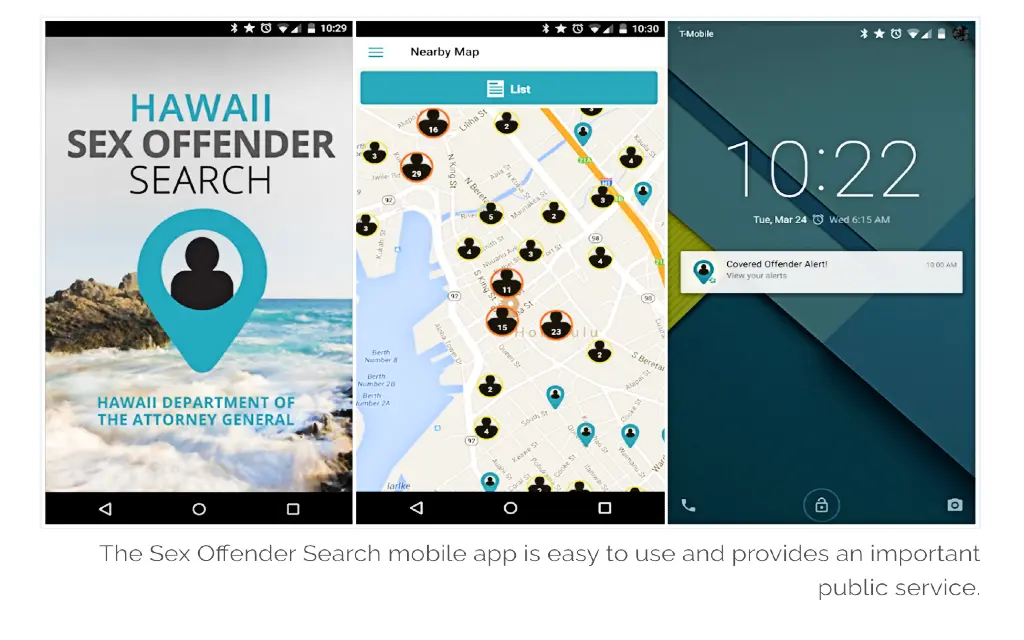 A user of the app can pull up a map of a specific area that shows the known residence addresses and locations of registered offenders in that area and can use the app to get special alerts regarding offenders that may be close by.
How to Get a Background Check Done in Hawaii
A background check might include substantially more information than a person's criminal record, including:
Employment history.
Drug screening.
Verification of education.
Driving record.
Credit history.
An overwhelming majority of background checks are conducted by prospective employers that are considering hiring a new employee. An employer might be reluctant to hire an applicant who is a convicted felon or who has some comparable blot on his or her record.
Any person or entity can check public records and Hawaii State records for publicly-available information about a job applicant, using the State's "eCrim" service and other public and commercial search capabilities.
Hawaii, however, was the first state to enact a "ban the box" law that restricts when and how an employer may ask an applicant about his or her criminal background and, more critically, how that information may be used in making employment decisions.10
Before making a hiring decision based on an applicant's criminal or other background, a prospective employer should confer with its legal counsel to verify if a job offer may be conditioned on passing a background check and if the applicant's permission is required to perform that check and if the applicant must be given an opportunity to rebut findings.
Understanding Hawaii Court Records
Hawaii court records contain public information about criminal and civil cases filed in criminal, district, and circuit courts, as well as from courts that address special matters, such as land use, tax appeals, and family law matters (e.g. estate probate, divorce, births, marriages, and deaths). Some matters in court case files may be sealed by operation of law or request of the litigants, in which event the sealed material will not be available for inspection or copying by the public.
How Do You Get Court Documents in Hawaii?
Interested parties can go directly to a court to request a Hawaii court record file. Alternatively, for most cases filed after October 2019 or for family law court matters filed after April 2022, they can use the Hawaii State Judiciary's "eCourt Kokua" search system.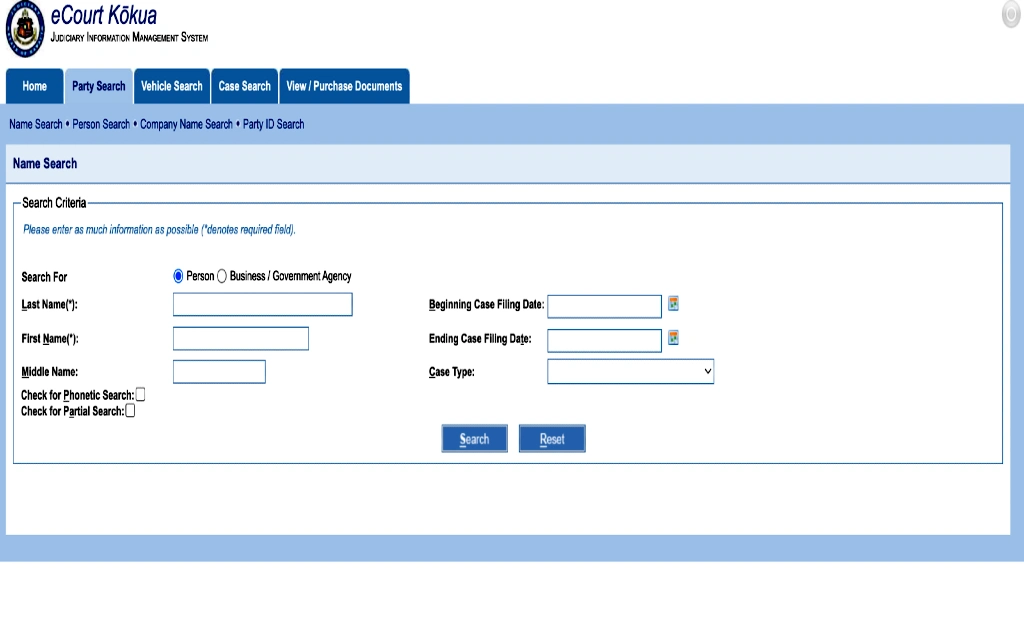 This system allows users to search for pending or closed cases by litigant name, filing date, and case type. Search results will show the documents under a specific case that are available for purchase, which a user can accomplish on a separate screen.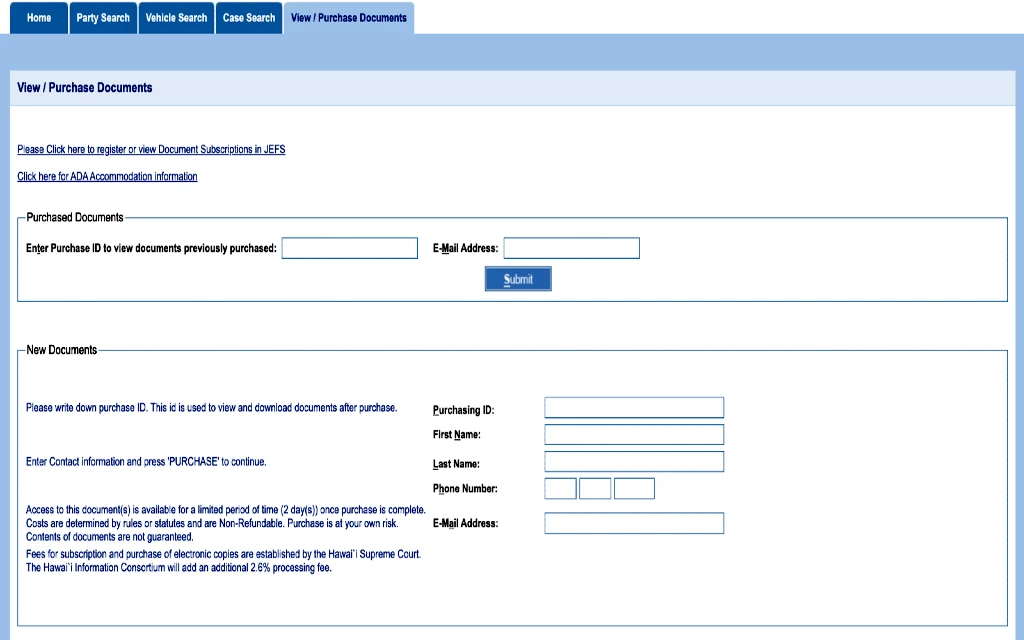 Individuals who anticipate doing a significant volume of Hawaii State Court research can purchase a non-refundable subscription to the eCourt Kokua system for $125 per calendar quarter or $500 for a full year.
The State's courthouses also have public access to research terminals where researchers can view filed documents for free. Hard copies of documents cost $0.10 per page, with a minimum charge of $3.00.
How to Look Up People's Bankruptcy Records in Hawaii?
The U.S. federal judiciary maintains Hawaii bankruptcy records on its "Public Access to Court Electronic Records" (PACER) system. To access those records, users must register and create a PACER account. Users can request downloaded copies of documents in specific Hawaii bankruptcy cases at a cost of $0.10 per page.
Older bankruptcy cases that have been closed will not be available through PACER but might be available through the Federal Government's National Archive database.
An Overview of Hawaii's Inmate Records
Currently, more than 5,000 inmates are detained in Hawaii's prisons and jails.11 This incarceration rate represents a greater than 600% increase in the detention rate over a 40-year period.
Technology and online search tools have made it easier for people to find out if someone has been arrested or is in jail. Generally, those tools can help a user determine how to get jail paperwork and locate detainees by:
Name.
Age.
Date of arrest, detention, or incarceration.
Location of the facility in which he or she is held.
The number assigned to the inmate by the Department of Corrections.
Pending release or potential parole date.
How to Find Jail Inmate Records
Victims that are looking for criminal trial verdicts or inmate release dates for the perpetrators of crimes against them can use the Hawaii SAVIN (Statewide Automated Victim Information & Notification) system.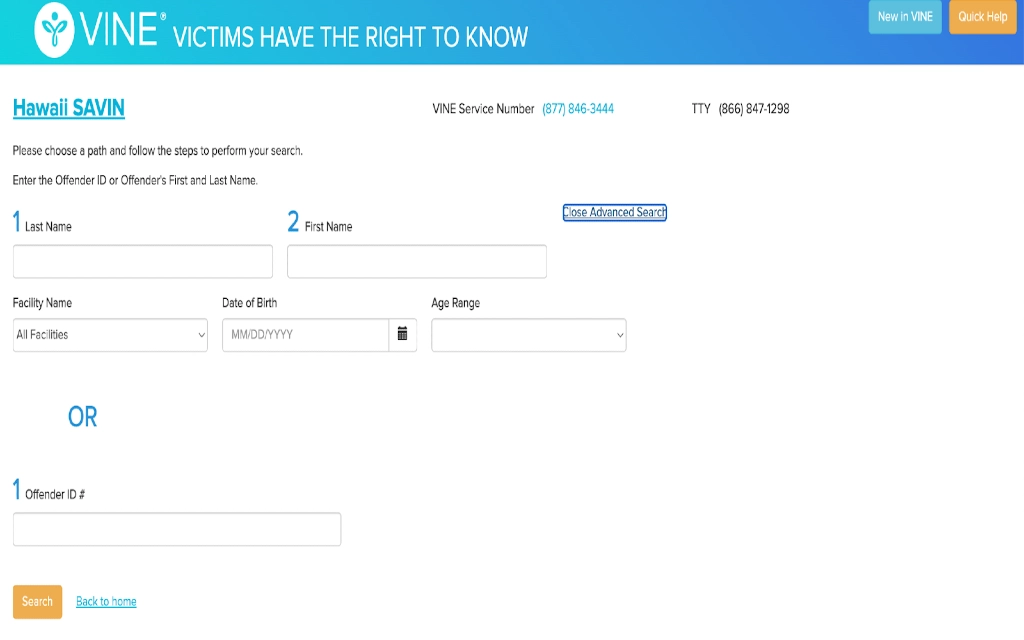 Individuals can search by an offender's first and last name or ID number, or do a more advanced search that allows the additional input criteria of the offender's approximate age and date of birth, as well as the facility in which he or she is detained.
Crime victims who register at the Hawaii SAVIN site can also arrange to have text or email links sent to them when an offender's status has changed, including, for example, when he or she may be released from detention.
If all else fails, calling one of Hawaii's four jails should be a last resort:
The Hawaii State Correctional Center, at 60 Punahele Street in Hilo, 96720 (Phone: 808-933-0431).
The Kauai Community Correctional Center, at 3-5351 Kuhio Highway in Lihue, 96766 (Phone: 808-241-3050 EXT- 244).
The Maui Community Correctional Center, at 600 Waiale Drive in Wailuku, 96793 (Phone: 808-243-5101; Visitor Hotline Phone: 808-243-5861).
The Oahu Community Correctional Center, at 2199 Kamehameha Highway in Honolulu, 96819 (Phone: 808- 832-1777; Visitor Hotline Phone: 808-832-1633).
These jails are temporary detention facilities for persons awaiting trial, individuals convicted of minor misdemeanors, and felons in transition from longer-term detention facilities.
How to Search for Prisoners (Prison Inmate Search)
Individuals can also search for inmates that are detained in federal facilities with the United State Bureau of Prisons inmate locator tool, either by inputting the prisoner's Bureau of Prisons number, or his or her first and last name and race, age, and gender.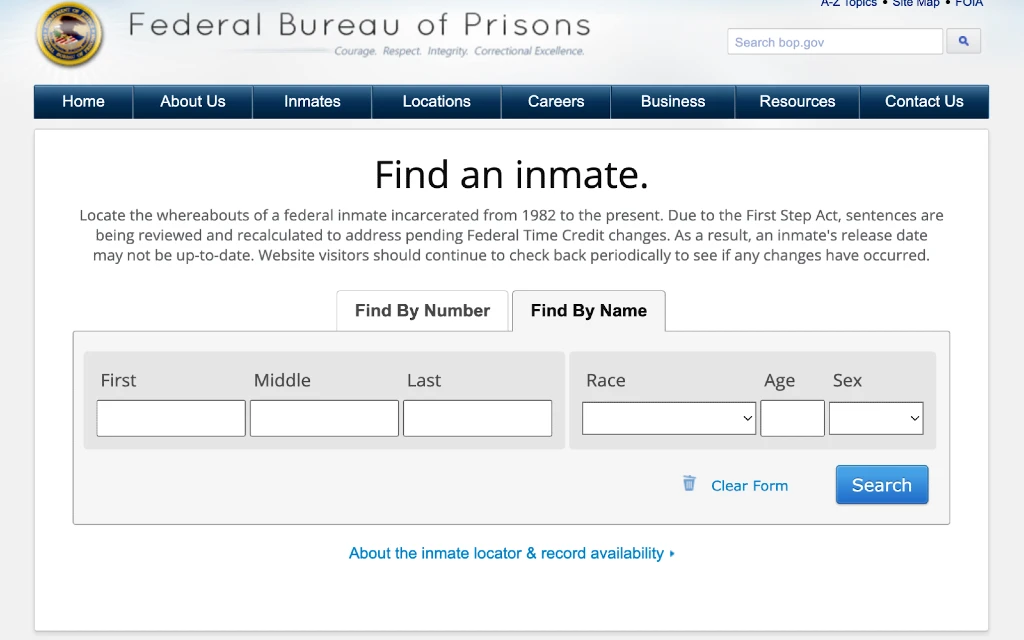 The State also maintains and operates four prisons:
The Halawa Correctional Facility, at ​​99-902 Moanalua Road in Aiea, 96701 (Phone: 808- 485-5200 Visitor Hotline Phone: 808-485-5298).
The Waiawa Correctional Facility, at 94-560 Kamehameha Highway in Pearl City, 96782 (Phone: 808-677-6150).
The Kulani Correctional facility, in Hilo (Phone: 808-932-4430).
The Women's Community Correctional Center, at 42-477 Kalanianaole Highway in Kailua, 96734 (Phone: 808-266-9580).
Inmates detained in prisons are typically serving sentences of one or more years.
How to Look Up Hawaii Inmate's Release Dates
The U.S. inmate locator tool and most commercial prison background check services will include an approximate release date in search results for specific prisoners that are held in federal detention facilities. For prisoners in state facilities, the Hawaii SAVIN link includes text or email alerts that provide information about a status change, including a release from detention, of a Hawaii prisoner.
How to Visit Inmates & Send Money to Prisoners
Individuals who wish to visit or correspond with a Hawaii prisoner must first complete a 2-page "Visiting & Correspondence Application". This straightforward no-fee application asks the prospective visitor to fill in his or her name, address, date of birth, and relationship to the prisoner that the individual wishes to see. It also includes a series of representations that the prospective visitor must read and attest to with his or her signature and social security number at the end of the form.
The warden then reviews the form and has the discretion to approve or deny the applicant's visitation or correspondence rights. Persons on the inmate's approved correspondence list are also the only individuals that may send money to prisoners
If the application is approved, the applicant's rights to visit or correspond with a prisoner will transfer with him or her if the prisoner is moved to a different facility. Visitors must comply with all applicable visitor rules and regulations, including:
Presenting a valid photo ID.
Subjecting to a search and metal detector scan prior to entering the facility.
Refraining from bringing cell phones, cameras, and other recording devices.
Not fighting or arguing loudly with any inmates or prison/jail personnel.
Complying with applicable dress codes.
Full visitor information will be provided upon approval of an applicant's visit and corresponding application.
Funds can be sent to a prisoner's account either by direct deposit of a check, Western Union wire transfer or through a TouchPay kiosk located in a lobby of the prison facility where the prisoner is incarcerated. These services charge fees that are a function of the type and location of the facility. The fees are subject to change without notice.
Hawaii Vital Records
Hawaii vital records are issued for significant life events such as marriages, divorces, births and death. These records are generally issued in the form of certificates and necessary for many life-processes within the state.
Are Vital Records Publicly Accessible in Hawaii?
Hawaii vital records can be marriage certificates, divorce records, birth or death records. birth and death records are kept confidential for 75 years from the date of the event that they recorded.12 Only a limited number of a person's family members or his or her designated representative or estate administrator can request these records during the 75-year confidentiality period. The records become publicly available when that period expires.
Requesting Hawaii Vital Records in Person (Free HI Divorce & Marriage Records)
Certain Hawaii state records such as vital records are available directly from the state's Department of Health. An authorized party can file a request directly and in person with the Department, for example, to find out if someone is married or to request a marriage certificate, divorce certificate, birth certificate, or death certificate. Individuals should schedule an appointment and request a specific document ahead of time to get a physical copy of it.
The Department takes appointments for this purpose generally before 2:30 on weekdays. Appointments may be made online or by phone or email to (808) 586-4539 or [email protected].
Alternately, for a certified copy of a certificate of birth or certificate or marriage or civil union, individuals can fill out, print and mail in a form to:
Hawaii State Department of Health – Office of Health Status Monitoring – Issuance/Vital Statistics Section
P.O. Box 3378
Honolulu, HI 96801
The request should include a copy of the requester's government ID and a cashier's check or money order with the correct fees, which are:
$10.00 for the first copy of the document you are requesting.
$4.00 for each additional copy.
$2.50 Administrative Fee for the five copies requested, plus an additional $2.50 Administrative Fee for each additional five documents or fraction thereof.
Requesting Hawaii Vital Records Online
Hawaii also offers an online portal to order birth and marriage certificates. The service is limited to vital records that were created after July 1909. Individuals who desire to utilize this service must first create a free online "eHawaii" account.
The order submission process and costs are the same as for in-person orders. Copies of requested records will be mailed to the requester within 22 days of submission of the request.
1Office of Information Practices | UIPA. (n.d.). Office of Information Practices. Retrieved May 28, 2022, from <https://oip.hawaii.gov/laws-rules-opinions/uipa/>
2Hawaii Revised Statutes Division 1. Government § 92F-13 | FindLaw. (n.d.). Codes – FindLaw. Retrieved May 28, 2022, from <https://codes.findlaw.com/hi/division-1-government/hi-rev-st-sect-92f-13.html>
3Hawaii Public Records Online Directory. (n.d.). Public Records Online Directory. Retrieved May 28, 2022, from <https://publicrecords.netronline.com/state/HI>
4Hawaii Criminal Justice Data Center | Criminal History Frequently Asked Questions. (n.d.). Department of the Attorney General. Retrieved May 28, 2022, from <https://ag.hawaii.gov/hcjdc/criminal-history-frequently-asked-questions/#public>
5Hawaii Background Checks | BackgroundChecks.org. (2022, May 2). Background Checks.org. Retrieved May 28, 2022, from <https://backgroundchecks.org/hawaii-public-records.html#Whats_on_a_criminal_record>
6(n.d.). eCrim | Hawaii's Adult Criminal Information. Retrieved May 28, 2022, from <https://ecrim.ehawaii.gov/ahewa/login.do;jsessionid=D4A463D64F3F57ADCAA5B0400B04116A.hcjdcapp>
7(n.d.). Hawaii Criminal Justice Data Center REQUEST FOR CRIMINAL HISTORY RECORD CHECK For Hard-copy Fingerprint Cards. Retrieved May 28, 2022, from <https://ag.hawaii.gov/hcjdc/files/2013/02/chrc_2012-06.pdf>
8LaMance, K. (2018, May 17). Expunging a Conviction in Hawaii. LegalMatch. Retrieved May 28, 2022, from <https://www.legalmatch.com/law-library/article/expunging-a-conviction-in-hawaii.html>
9Hawaii Sex Offender Search – NIC Hawaii. (n.d.). NIC Hawaii. Retrieved May 28, 2022, from <https://nichawaii.egov.com/project/hawaii-sex-offender-search/>
10Hawaii State Background Check. (n.d.). Backgroundchecks.com. Retrieved May 28, 2022, from <https://www.backgroundchecks.com/our-data/coverage-map/hawaii-state-background-check>
11Incarceration Trends in Hawaii. (n.d.). Vera Institute. Retrieved May 28, 2022, from <https://www.vera.org/downloads/pdfdownloads/state-incarceration-trends-hawaii.pdf>
12Hawaii Public Records Online Directory. (n.d.). Public Records Online Directory. Retrieved May 28, 2022, from <https://publicrecords.netronline.com/state/HI>